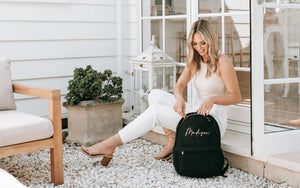 Shop the range before they sell out again!
Treat yourself to a well-deserved indulgence and embrace the idea that self-care is not a luxury but a necessity.
Investing in yourself, even in the smallest ways, sends a powerful message that your well-being matters.
So go ahead, take that leap, and experience the sheer delight of acquiring something extraordinary, crafted solely for your pleasure.
Hands Free Convenience
Whether you're shopping, traveling, or commuting, you can carry your essentials without the hassle of holding a bag.
tangle free travel
Pack all your favourite pieces without worrying about them tangling!
MEET THE OWNER
Welcome to The Label House Collection, where heartfelt creations come to life. I'm Teagan, the proud owner and a Mumma to one human baby and two adorable fur babies.
In 2019, I inadvertently created this wonderful business, when I embarked on a quest to save money to buy our beloved Golden Retriever. Your support means the world to me, and I am committed to delivering high quality products that exceed your expectations Teagan xx


Let customers speak for us